We Rhinelanders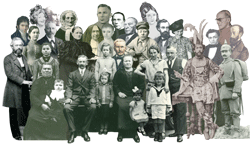 We bid you a cordial welcome in "We Rhinelanders" - an exhibition in the Rhenish Open Air Museum Kommern!
You walk on the winding street of a small town through theme complexes with 50 scenes and look through the windows of the flanking houses, back on 165 years of Rhenish history. The buildings are borrowed from model examples of Rhenish towns. They correspond to their relevant periods as much in their furnishings as in the social relations of the time. The scenes are "enlivened" by figures in historical costumes. Many of them bear the heads of Rhineland celebrities of the present and the past.
Accompanying the illustrated scenes, you will find info-rooms with display-cases, computers and text panels, which explain the scenes, provide extended information and kindle the desire to learn and think about Rhenish history in a more intensive way.